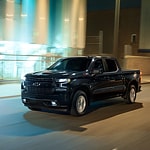 You can stay engaged on the road with the latest mobile technology and smart connectivity options, like Apple CarPlay and Android Auto that come standard on the Chevrolet Silverado 1500. This family-centric heavy-duty truck will not only do you heavy lifting and pulling but also ensure you get the best sound from its Bose premium sound system.
The interior ambiance of the Chevrolet Silverado is curtesy of the 8-inch infotainment system that is ergonomically designed and located to keep you immersed during your trip. It also comes with a host of luxury features inside the cabin that makes it standout from its peers in the same class.
Wireless charging is inside the Chevrolet Silverado 1500 is now made easy by the truck's innovative charging device that eliminates the need for wires in the cabin. Drive with confidence when towing your cargo, thanks to the advanced trailering system complete with an in-vehicle trailering app.